On 2nd June 2021 Mamanbek Reimov defended his doctoral (PhD) dissertation on technical science, which was registered at the Supreme Attestation Commission at the Cabinet of Ministers of the Republic of Uzbekistan. The doctoral dissertation has been prepared at the Tashkent Institute of Irrigation and Agricultural Mechanization Engineers.
The main aim of the research was the improvement of the application of geographic information systems for the study of ecosystems and their services of the Aral Sea area.
The key results of research consist of:
A method for the use of optical indices for the classification of the main types of protected ecosystems has been developed.
New approaches to construction, information content, the main elements of indicator maps of ecosystems, ecological corridors of networks are proposed.
A method is proposed for using the concept of environmental services for the Lower Amudarya State Biosphere Reserve to optimize the spatial structure.
The scientific and practical significance of research results are as follows:
The scientific significance of the research results lies in the scientific substantiation of the methodology for studying the ecosystems of the Southern Aral Sea region based on the interpretation of remote sensing data for the purposes of effective functioning and creation of protected areas.
The practical significance of the research results lies in the fact that the results obtained, and the proposed methods can be applied in the management of existing and selection of territories for the organization of new protected areas.
For more information see here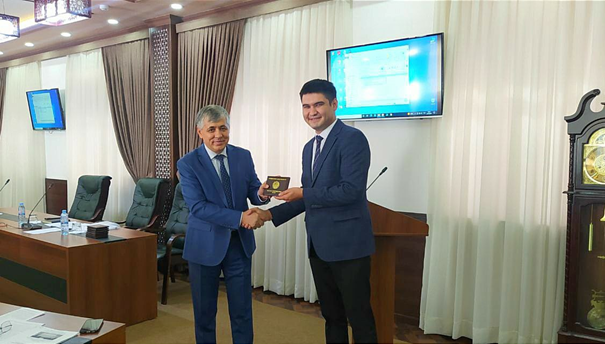 Diploma award ceremony, at TIIAME Scientific Council in September 2021