The various stages of training are related to the level of knowledge acquisition and its application in practice. Doctoral studies are important as a high level of scientific knowledge, theoretical legitimacy and practical activity. This is the essence of the Erasmus+ "DSinGIS: Doctoral studies in Geoinformatics Science" project. According to the plan of the Erasmus+ DSinGIS project the Winter School in Geoinformatics was held online on February 15-26, 2021. It was attended altogether 20 master students, PhD students and researchers in geoinformatics from partner universities in Uzbekistan (Tashkent Institute of Irrigation and Agricultural Mechanization Engineers, National University of Uzbekistan, Samarkand State Architectural and Civil Engineering Institute, Karakalpak State University and Tashkent Institute of Architecture and Civil Engineering). During the lessons, participants were divided into small groups, using modern video conferencing equipment installed in e-learning centers, purchased for each partner university under the project.
During the winter school, participants improved their knowledge and skills, mainly in the field of Remote Sensing and "R" programming, which are becoming more and more popular. Lectures and practical exercises were conducted by highly qualified lecturers of foreign universities in the field of GIS Dr.Malgorzata Verőné Wojtaszek (Obuda University, Hungary) and Max Hofmann (Leibniz Institute of Agricultural Development in Transition Economies (IAMO), Germany).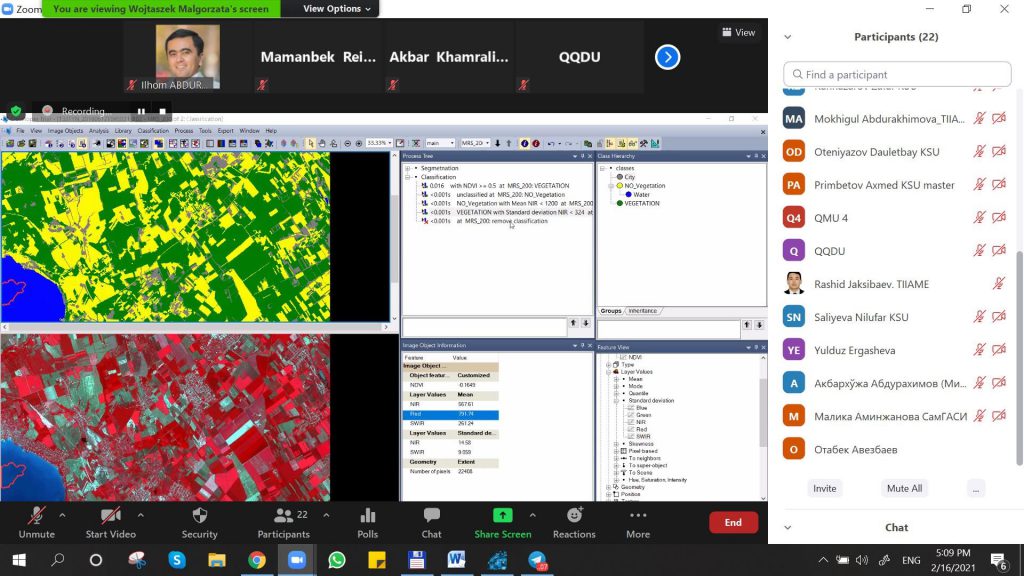 During the training, the participants learned how to solve specific problems in selected areas using modern GIS technologies, as well as foreign experience and ways to apply it in practice and research. Participants also asked questions related to their research work on GIS. That is, the use of remote sensing and R programs in various fields and ways to obtain accurate data, types of analysis and methods of their application in research works. At the end of the course, each participant completed a mini-project work through GIS programs using their knowledge gathered during the course and independently.